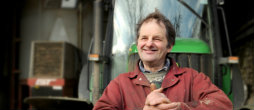 Equipment & Inventory Loans
Keep your business running like clockwork with the stability an Equipment & Inventory Loan can provide. We offer competitive rates that allow you to stay stocked, running, and always ahead of your competition.
Plus, we work closely with you to customize terms, based on your unique situation. And just like you're situated nearby, so are we. Have a trusted partner you can rely on to answer your business needs in a streamlined fashion.
Summary

Competitively low rates for purchase of equipment or inventory
Accommodating terms, custom-tailored to business's unique situation
Meet needs without cutting into working capital or savings
Stay ahead of the competition
Avoid equipment obsolescence and lapse periods in production
Insurance coverage options available
Helpful service, centered on your needs
Local decision-making and processing