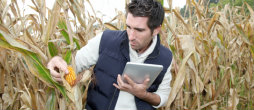 Operating Lines of Credit
A lot goes into operating a business smoothly — including money. Have a source of funds available for specific seasonal needs, to boost working capital, or anything that could inevitably come up along the way.
Once established, your line of credit can be withdrawn at any time without the hassle of reapplying. Pay down your balance to clear up more available for use. Avoid headache. Meet needs as they arise with an Operating Line of Credit.
Summary

Competitively low rates for a wide range of seasonal needs:
Boost working capital
Expedite inventory purchases
Arrange for seasonal needs
Capitalize on trade discounts
Smooth out purchase/collection cycles
And more
Accommodating terms, custom-tailored to business's unique situation
Direct, anytime access to funds without reapplying
Revolving credit; as balance is paid down, more credit becomes available for use
Only pay interest on the part that's used
Optional credit life and disability insurance available
Helpful service, centered on your needs
Local decision-making and processing