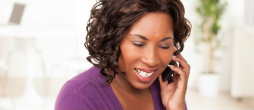 Telephone Banking
You may not always have time to run to the bank, but a phone call is usually pretty manageable. Luckily telephone banking provides access to a number of banking functions, available 24/7 at the simple dial of a phone.
Simply dial in to our convenient automated service to check your account balance, make transfers, hear transaction details, and more. Day or night, banking is always available to you. Call at anytime for answers to your banking inquiries.
Summary

Free, easy-to-use service for FNB customers
Save valuable time; avoid unnecessary trips to a branch
Perfect solution for quick account inquiries
Access account information 24/7 via any touchtone phone:
Check balances
Hear recent transaction history
Transfer funds
Search for specific transactions
Re-order checks
Request a stop payment
Report a lost or stolen debit card
Have your pin on hand for a quick process

Get Started

Simply dial 218-583-2367 (Henning & Ottertail) or 218-583-2460 (Battle Lake) to start banking by phone today!

If you're outside the local calling area, call toll free at 877-827-4701 (Henning & Ottertail) or 877-827-4702 (Battle Lake).

Note: The first time you use telephone banking, you will need the last 4 digits of your SSN number. You will then be prompted to set up a PIN for telephone banking use. Each time you log in thereafter, you will be prompted for that PIN.