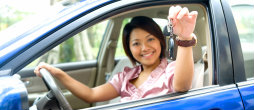 Auto Loans
Apply today at a branch near you!
Drive off in your dream ride with the help of accommodating financing from FNB. Take advantage of competitively low rates and terms that keep your unique situation in mind. Before settling for what a dealer can offer, stop by FNB for pre-approval.
We handle all decision-making and processing within Otter Tail County — offering you the streamlined solution you want and deserve. Ask us about optional credit life and disability insurance for something invaluable — peace of mind.
Summary

Competitively low rates for new or used vehicles
Accommodating terms, custom-tailored to customer's situation
Flexible down payment options
Get pre-approved for extra bargaining power at the dealership
Optional credit life and disability insurance available
Helpful service, centered on your needs
Local decision-making and processing

Recreational Vehicles

Competitively low rates for a wide range of recreational vehicles:
ATVs
RVs
Boats
Motorcycles
Jet skis
And more!
Accommodating terms, custom-tailored to customer's situation
Flexible down payment options
Get pre-approved for extra bargaining power at the dealership
Optional credit life and disability insurance available
Helpful service, centered on your needs
Local decision-making and processing