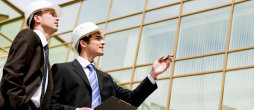 Construction Lines of Credit
Apply today at a branch near you!
Take on construction projects with confidence, backed by a competitive-rate FNB Construction Line of Credit. We work hard to solidify competitive rates and repayment consistent with your unique situation.
Without fail, things always come up during the construction process. Anytime access to funds helps you meet these ongoing, unexpected expenses without the hassle of reapplying.
Summary

Competitively low rates for ongoing construction projects
Accommodating repayment options, custom-tailored to customer's situation
Reuse funds at any time without reapplying
Revolving credit; as balance is paid down, more credit becomes available for use
Lenders with experience in the local real estate market
Helpful service, centered on your needs
Local decision-making and processing

*Consult a tax advisor.