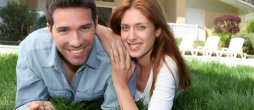 Home Mortgage Loans
Apply today at a branch near you!
At FNB, our experienced team will help you materialize your new home dreams into concrete plans. Count on a local process for the quick answers you deserve. Our team is stationed right here in Otter Tail County, with a working knowledge of the real estate market.
We work hard to solidify competitive rates and terms that are budget-friendly, based on your unique situation. Whether you're a first-time homebuyer, financing a second home, or simply refinancing, count on personalized attention from FNB.
Summary

Competitively low rates for purchase, refinance, or construction
Fixed rates mortgages up to 40 years
Adjustable Rate Mortgages (ARMs)
Second home, lake home, and cabin financing available
Accommodating terms, custom-tailored to customer's situation
A wide range of financing options available:
USDA rural development loans
First-time homebuyer specials
Construction loans
Balloons
Land-only loans
Second mortgages
Low to no down payment options
Lenders with experience in the local real estate market
Insurance coverage options available
Helpful service, centered on your needs
Local decision-making and processing