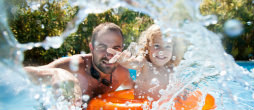 Personal Loans
Apply today at a branch near you!
From auto purchases, to home remodels, vacation expenses, and everything in between — if you have a need, we have a financing solution for you. Capitalize on a bank that's based in your own backyard, with familiar faces that put you first.
We work hard to secure competitively low rates and the customized terms you deserve. Even ask us about our single pay notes — available for a one-time payment alternative.
Summary

Competitively low rates for a wide range of personal needs
Accommodating terms, custom-tailored to customer's situation
Single pay notes available to provide a one-time payment option
Optional credit life and disability insurance available
Automatic payment options, keeping payment easy
Helpful service, centered on your needs
Local decision-making and processing